Are you looking for a space to use for a birthday party? anniversary dinner? reunion? Is your organization looking for a weekly or monthly meeting location? Do you need meeting space for another event? St Albert Salvation Army Church & Community Centre has several spaces available for use. The basic rates on this page are for outside organizations (both non-profit and for-profit) or individuals looking to use our facilities and are based on actual time of use for the room. Please include any set up and clean up time in your booking requirements.
Gym/Auditorium:
Our Gym offers a clean and well lit space for large gatherings, sporting activity. We have on site 14 round (6′) tables, 14 rectangular (6′ X 3′) tables , 170 folding chairs, a volleyball net, two basketball hoops with backboards, basketballs, volleyballs and a variety of other items for games.
Size: 70′ X 45′
Maximum Occupancy: 600 standing / 380 with seating / 300 with tables & chairs.
Rental Rates : $50 / hr – $350 / day
Kitchen:
Our church kitchen is suitable for storing cold or frozen perishables, warming foods or cooking small meals. Request to use kitchen permits use of the space for this purpose as well as limited non-disposable kitchenware. Our kitchen includes the following:
Size: 24′ X 15′
two stoves
two refrigerators
two freezers
two double sinks
a Bunn Coffee Maker
a dish sanitizer
Rental Rates:

$50 / hr or $350 / day (kitchen alone)
$25 / hr or $175 / day (when renting another room)
$20 / hr or $100 / day (partial use fridge space only)
Meeting Room:
Our Meeting Room (18′ X 24′) has seating for up to 25 people around tables or up to 40 people with chairs only. This room has a sink for water and electrical outlets for a coffee maker, laptop or projector. There is also a whiteboard for writing or PowerPoint presentations.
Size: 18′ X 24′
Rates:

Room: $30 / hr or $210 / day
TV or Projector (vga): $25 / hr or $120 / day
Board Room: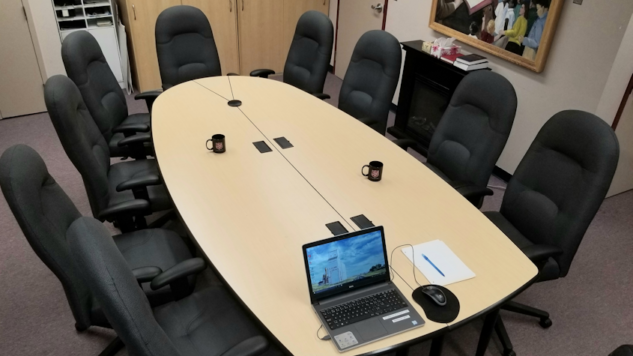 Our Board Room offers comfortable seating for up to 12 people with electrical outlets in the table for laptops, projectors or other small office equipment. This room also comes with a large flat screen TV that can be used for video presentations.
Size: 19′ X 28′
Rates:

Room: $40 / hr or $280 / day
TV or Projector (vga): $25 / hr or $120 / day
Sanctuary:
Our 40′ X 50′ sanctuary can comfortably seat 130 people with removable chairs to make room for wheelchairs. There are screens (one front and one at back for presenters) that can be plugged (vga) into a laptop or you can use our desktop computer with usb ports or cd/dvd drive to help make your presentation.
Size: 40′ X 50′
Rates:

Room: $50 / hr or $$350 / day
Screen and Projector (vga): $25 / hr or $175 / day
Please Contact Us Today for rates and availability: 780-458-1937